Frequently Asked Questions (FAQs)
How can I purchase your artwork?
You can purchase my artwork directly from my website's online gallery. Simply browse through the available collections and click on the artwork you wish to purchase. Follow the easy checkout process to complete your order securely.
What are your shipping times and costs?
Shipping times and costs vary depending on your location and the size of the artwork. Once you select an artwork and enter your shipping address during checkout, the system will calculate the shipping cost and provide an estimated delivery date.
Do you ship internationally? 
I do not ship internationally at this time.
Can I commission a custom artwork?
Absolutely! I welcome commission requests. If you have a specific vision or idea in mind, I would love to collaborate with you to create a custom artwork tailored to your preferences and style. You can read about the commission process here.

How do I pay for commissions?
Commissions require a 50% installment payment to begin the work and the final balance is due upon shipment or delivery.
What is your return policy for original artwork? 
Please note that all sales of original artworks are considered final. I do not offer cancellations, exchanges, or refunds for these purchases.
What is your return policy for print reproductions of artwork? 
Please be aware that all Art Print sales are considered final, as each print is "made to order." Regrettably, I do not provide refunds or accept returns for print purchases. However, I do permit exchanges for prints within 7 calendar days from the delivery date, provided the prints are in undamaged condition. Kindly note that the buyer will be responsible for covering all shipping charges associated with the exchange and may need to pay any difference in price for the new selection.
How and when should interested customers contact you?
Interested customers can contact me at any time by emailing me at anne@annezimmerman.com. 
Do you have a newsletter subscription form?
Yes, you can subscribe to my newsletter on the website to stay updated on my latest collections, art events, and news.
What are your payment terms?
Payment for artwork is accepted through secure online payment methods. You can find more information on payment options during the checkout process.
Do you offer installment payment plans?
Yes, I do offer installment payment plans for original artwork and prints priced over $1,000. Please contact me at anne@annezimmerman.com to discuss the available options.
Do you hang your artwork for buyers? 
I do not personally hang my artwork for buyers, but I will schedule and arrange for an insured, licensed professional to hang client artwork if requested. The fee for this service is paid for by the client.
Do you accept wholesale purchases from corporate art consultants and interior designers?
Yes, I welcome wholesale inquiries from corporate art consultants and interior designers. Please reach out to me at anne@annezimmerman.com to discuss.
Do you take studio appointments?
Yes, you are welcome to tour my studio. If you are interested in visiting, kindly contact me at anne@annezimmerman.com to schedule an appointment.
Do you use archival, environmentally friendly materials?
Yes, I am committed to using archival and environmentally friendly materials with my print reproductions.
Does your artwork come with a certificate of authenticity?
Yes, all original paintings come with a certificate of authenticity.
Do you frame artwork? 
Some of my artwork is sold framed, and some artwork is sold unframed. Occasionally, I frame commissioned artwork upon request if my schedule allows. Please contact me at anne@annezimmerman to discuss your needs.
Do you store artwork temporarily for buyers?
I do not provide temporary storage for purchased artwork, but I can suggest suitable storage solutions if needed.

What about copyright terms?
I want to emphasize that I, as the Artist, maintain all copyrights to my artwork, including custom work. Reproduction of my artwork by any party other than myself is strictly prohibited without my prior written consent. Additionally, I reserve the right to produce print reproductions of my artwork as I see fit. Your understanding and respect for these copyrights are greatly appreciated.
If you have any additional questions not covered in this FAQ section, please do not hesitate to contact me directly at anne@annezimmerman. Thank you for your interest in my art, and I look forward to assisting you!
Sizing for a specific wall Space
My clients, Linda and Andy, were initially interested in a different painting but the size was too big. So we measured the space together and I painted the scene they were looking for at the size they needed.
Read More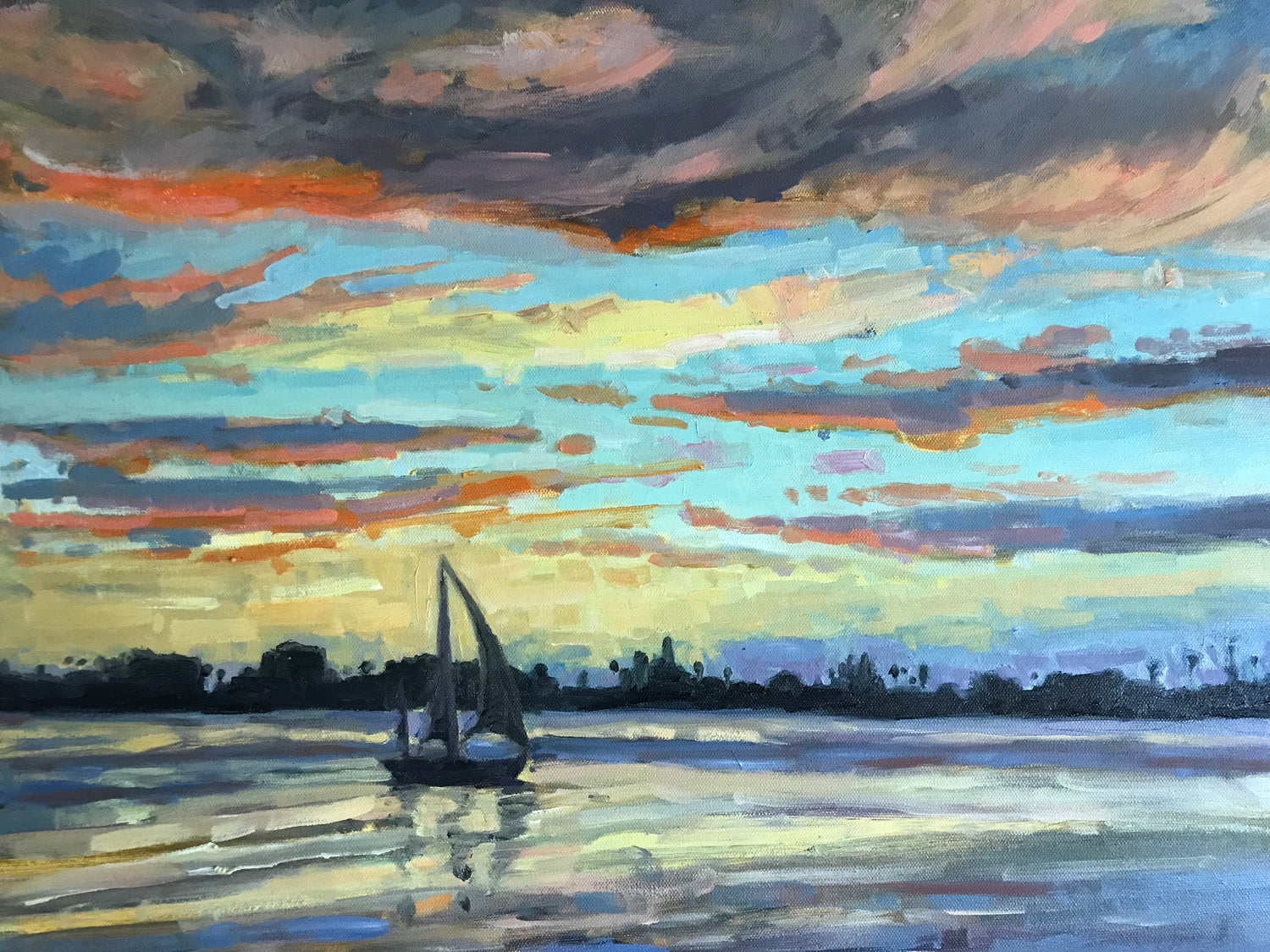 "This was my first time commissioning a piece of art and Anne could not have been easier to work with! I had a specific photo I wanted her to work from, but there were subtle aspects I wanted her to capture that weren't necessarily in the photo itself. Not only did Anne capture EXACTLY what I was looking for, she was able take my vague, non-artistic descriptions and turn them into exactly what I wanted in the time frame I needed. I can't say enough great things about working with Anne!"
~ Steve W., Commission Client, Tierra Verde, FL
Read More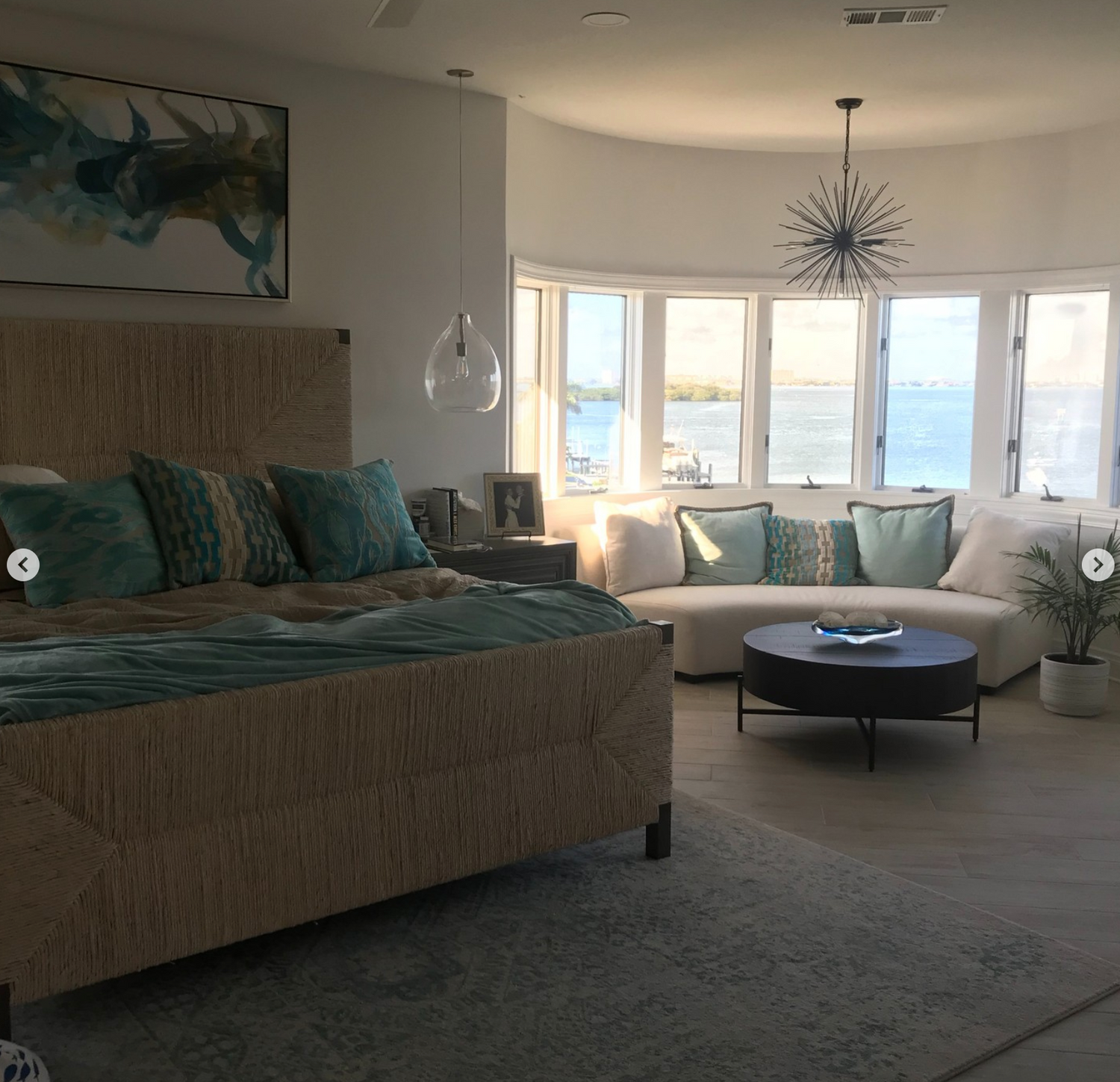 A Favorite Spot Painted for a Serene Master Bathroom in Florida
Read more about this custom surprise painting for a luxury master bathroom in Tierra Verde, Florida.
Read More
"Anne Zimmerman, you are a truly talented artist. This piece exceeded my expectations and I am completely in love with it. Thank you so much. You have been an absolute dream to work with. This process has been seamless from beginning to end. Amazing!"
~ LAUREN, COMMISSION CLIENT, TAMPA FL
A Day at the Beach Family Portrait
Read more about the creation of this family portrait commission at the beach in Marco Island, Florida.
Read More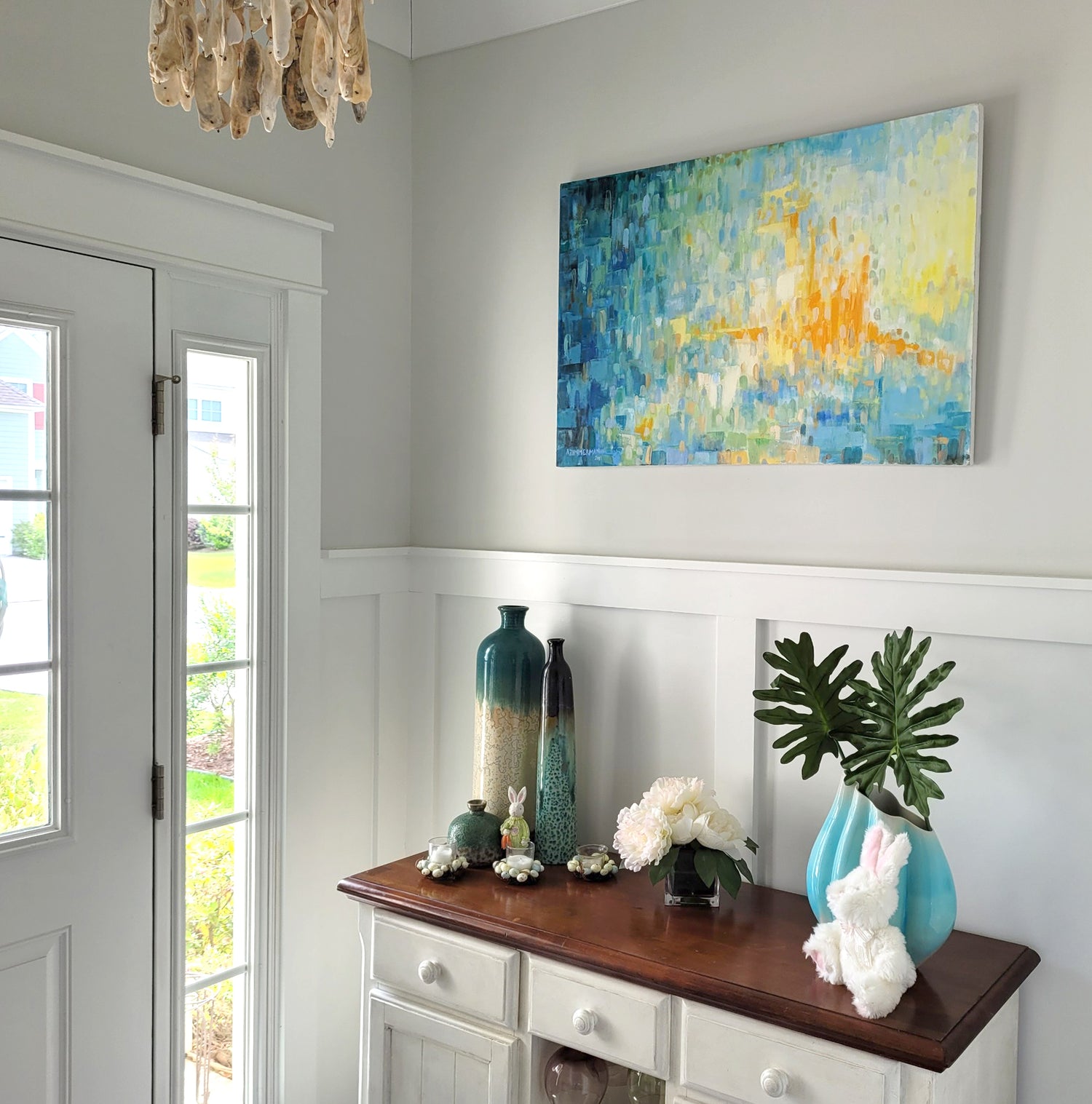 Abstract Commission for a Cottage Entryway
Read more about this custom vibrant abstract painting for cottage style house in South Carolina.
Read More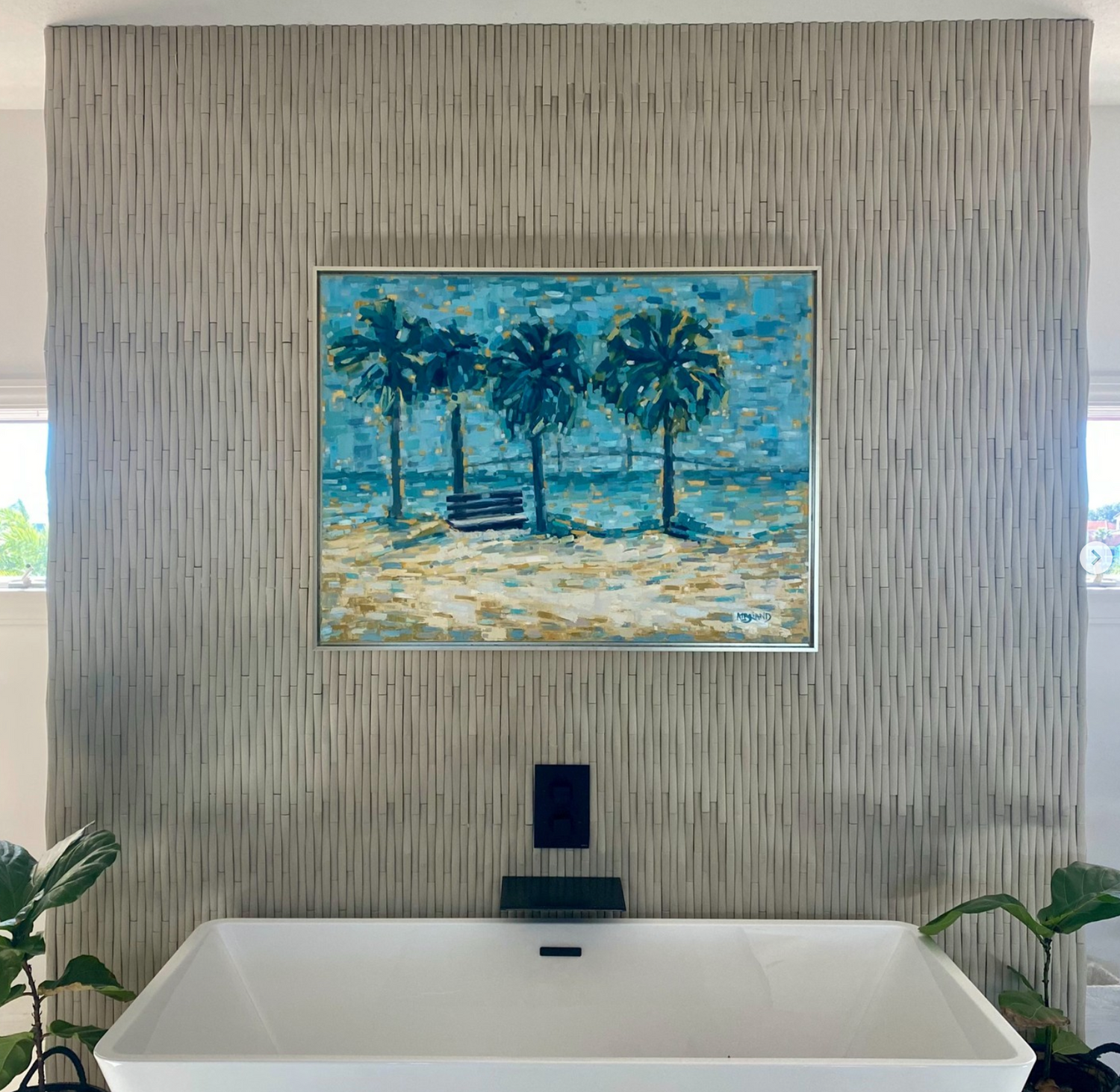 "I'd like to take this moment to personally vouch for Anne's stupendous work and talent! I hired Anne to paint a custom piece of a favorite scene to match the turquoise colors of my bedroom. She went on a few location scouting trips and then created a mini version to approve the colors and dimensions prior to working on the final masterpiece. I love it! It's absolutely perfect."
~ Cindy, Commission Client, Tierra Verde, FL
Read More